In recognition of the potential neighborhood impact of any proposed development in the Balboa Reservoir, the Westwood Park Association (WPA) has established the Balboa Reservoir Subcommittee to serve as a channel between the Westwood Park board president and its residents. The WPA's board president is a member of the city's Balboa Reservoir Community Advisory Committee (CAC).
Westwood Park Association involvement
Since Westwood Park is the only neighborhood directly adjacent to the proposed development, the WPA recognizes that residents want to be involved in shaping its future. The WPA has set up a subcommittee to serve as a conduit between our board president (a member of the CAC) and Westwood Park residents. The role of the subcommittee is to gather feedback from residents on the various topics and parameters surrounding the proposed reservoir development. That information will then be forwarded to the WPA board president to use during the monthly public CAC meetings.
| | |
| --- | --- |
| 2009 | Balboa Park Station Area Plan adopted |
| Nov 2014 | Balboa Reservoir site identified for the Public Land for Housing Program |
| >April 2015 | Balboa Reservoir Community Advisory Committee (CAC) established |
| Aug 2015 – Sep 2016 | Development parameters established over the course of 16 CAC meetings |
| 2017 | Development team selected: AvalonBay Communities and BRIDGE Housing with Mission Housing, Pacific Union Development Company, and Habitat for Humanity of Greater San Francisco. To learn about the selection process, visit http://sfwater.org/balboa/community |
| 2018-2020 | Refinement of draft master plan, environmental review, and project approvals |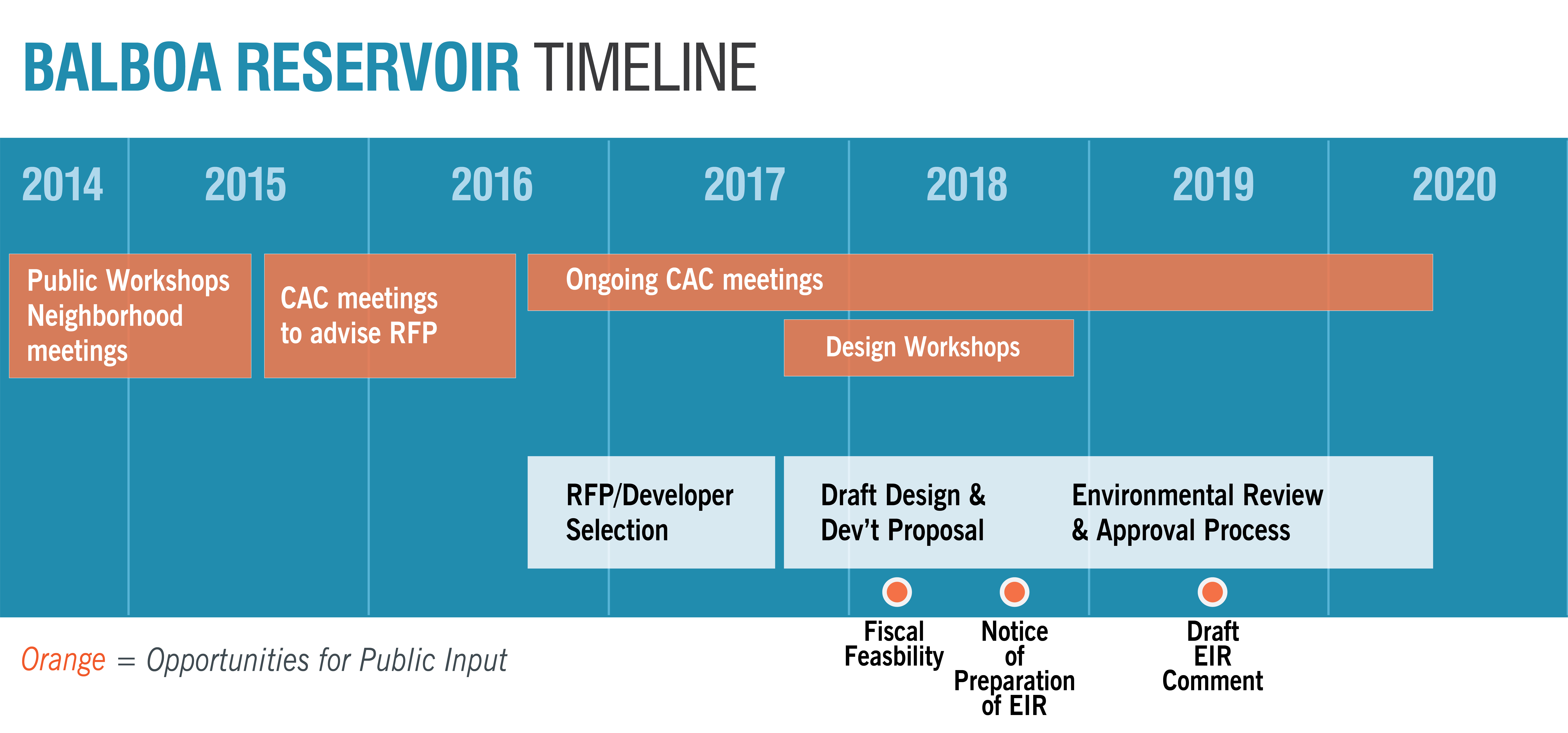 How can you help?
We strongly encourage residents to attend the monthly CAC meetings and voice opinions on the proposed development.
Please chwck website for next meeting: SF Planning Balboa Reservoir
Any comments, questions or concerns about the Balboa Reservoir development project will be directed by the subcommittee to Westwood Park's representative on the CAC. Below is the WPA Balboa Reservoir Subcommittee contact information:
Mail: PO Box 27901 #770, San Francisco CA 94112
Email: WPA.Balboa.Reservoir@westwoodpark.com
Other ways to comment:
CAC Contact

To submit questions or comments to City staff or members of the CAC, please contact:

Leigh Lutenski
Office of Economic and Workforce Development, City and County of San Francisco
City Hall, Room 448, 1 Dr. Carlton B. Goodlett Place, San Francisco, CA 94102-4653
Direct: 415-554-6679
Fax: 415-554-4565
BRCAC@sfgov.org

Contact the City directly:
Jeanie Poling
Planning Department, City and County of San Francisco
1650 Mission Street, Suite 400, San Francisco, CA 94103
Direct: 415.575.9072
Jeanie.Poling@sfgov.org
Useful Links:
City of San Francisco Balboa Reservoir Project website: http://www.sf-planning.org/index.aspx?page=3989